This great metropolis is a city where one day is just not enough hours to see everything it has, since the distances are relatively large. Two days would be better to get a snapshot of the city. I would also like to point out that it is nothing like its neighbour and rival city, Edinburgh. That's like saying that all beers from the same country are the same; all refresh you, yes, but the difference is in the flavour, just as it is with these two cities. And in this case, Glasgow might be thought of as the ugly duckling of the two, but I assure you that it has plenty of beauty.
People from Glasgow are known as Glaswegians, and their accent can be somewhat challenging to understand. Legend has it that there are times when they don't even understand each other! So I hope to make your life a little easier, and here you will find everything you need to get to know Glasgow.
Construction of this cathedral began in 1136, and today it's currently the only intact cathedral in all of Scotland. It has a 13th-century crypt, where you'll find the tomb of Saint Mungo, Glasgow's patron saint. It's a 15-minute walk from Queen Street train station, and admission to both the cathedral and the crypt is free.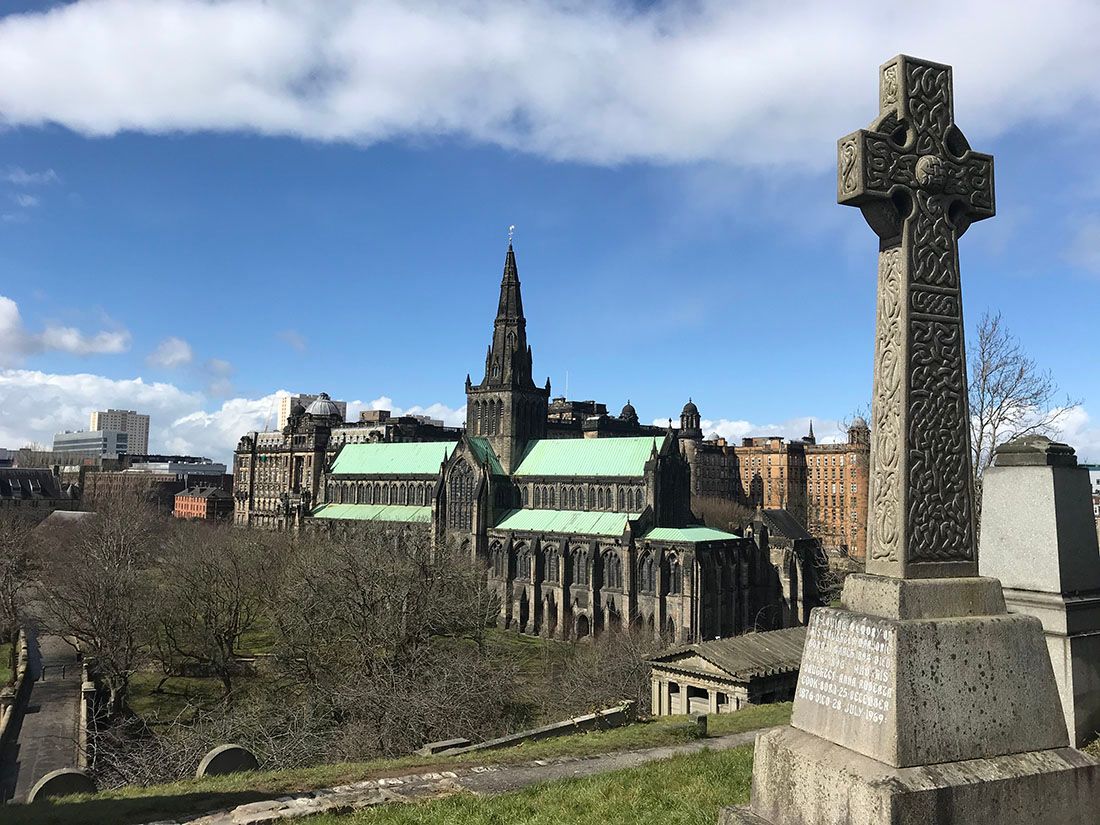 Glasgow Cathedral
2. Necropolis
This Victorian cemetery is situated on a hill just behind the cathedral and has spectacular views of the city. It is estimated that 50,000 people are buried there, even though there are only about 3,500 monuments or graves. The Glasgow Chamber of Merchants began formally planning the cemetery in 1831 but didn't officially open it until April 1833.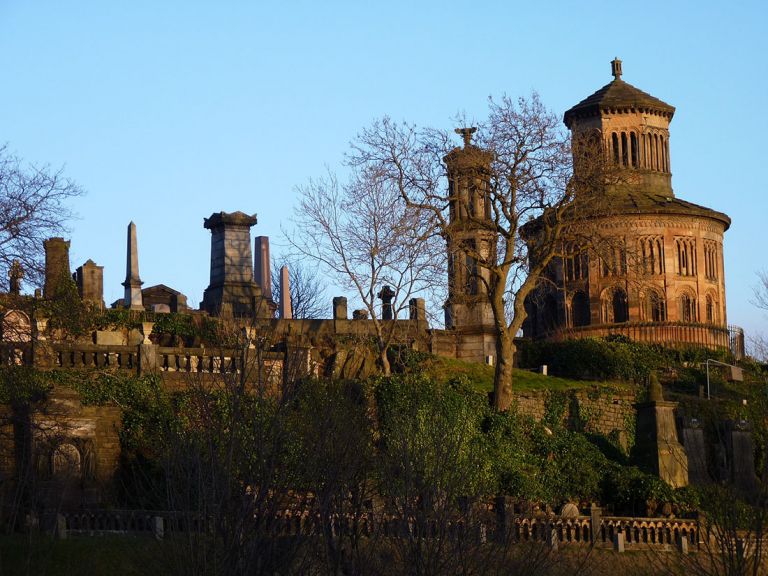 Necrópolis
The distillery opened its doors in 2017, located on the banks of the River Clyde. The distillery is very original in its design; some of its facades are made of glass, allowing you to see part of its interior from the same street. You can take a tour that lasts approximately 1 hour and costs £15.
4. Glasgow University
The university is a bit further away from the city centre, but you can easily reach it on the subway (the stop is Hillhead). It's a beautiful building to visit and is one of my personal favourites in Glasgow. Founded in 1451, it's one of the oldest universities in Scotland. It's world-renowned and follows the Bologna model, being of great European tradition. There are almost 16,000 undergraduate students and 4,000 postgraduate students. It has ten faculties: Arts, Biomedical and Life Sciences, Mathematics and Statistics, Physical Sciences, Medicine, Social Sciences, Engineering, Law and Financial Studies, Veterinary Medicine and Education. Its many illustrious former students include Adam Smith and Nobel Laureate John Boyd Orr (Nobel Peace Prize winner, 1949).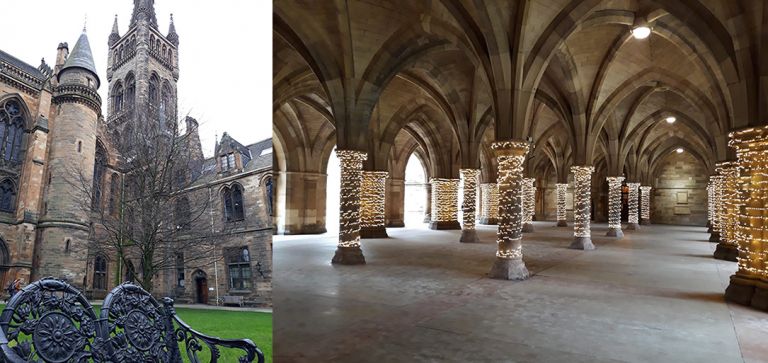 Glasgow university. Picture "Scotland In My Pocket"
This museum is just a short walk away from the university. Opened in 1901, it comprises 22 galleries where you will find everything from furniture exhibitions by the famous Scottish architect Charles Rennie Mackintosh, to an impressive collection of ancient Egyptian artefacts, through works by influential artists, including Botticelli and Rembrandt, and even extraordinary medieval armour. Admission is free.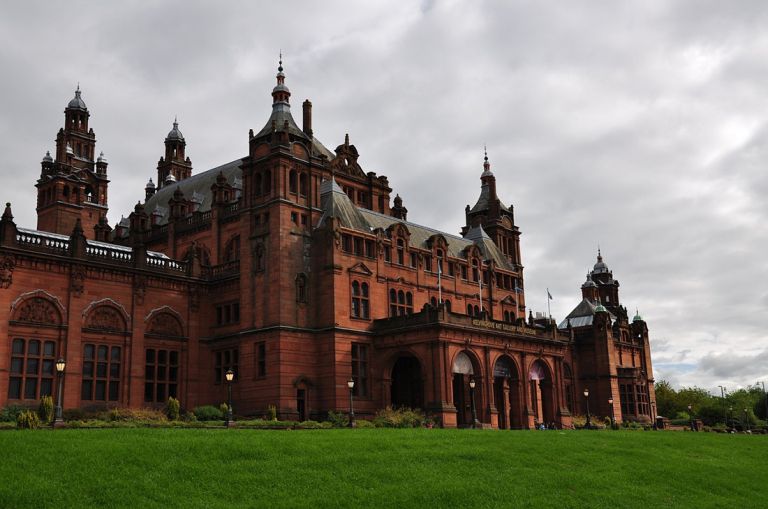 Kelvingrove Museum
The European Museum Forum (dedicated to developing the quality of museums) considers this transport museum one of the best in Europe. Inaugurated in 2011, it now has more than 3,000 objects inside. Not only is the exhibition of cars, locomotives, trams, motorcycles and much more worth visiting, but also the building itself is stunning. Admission is free.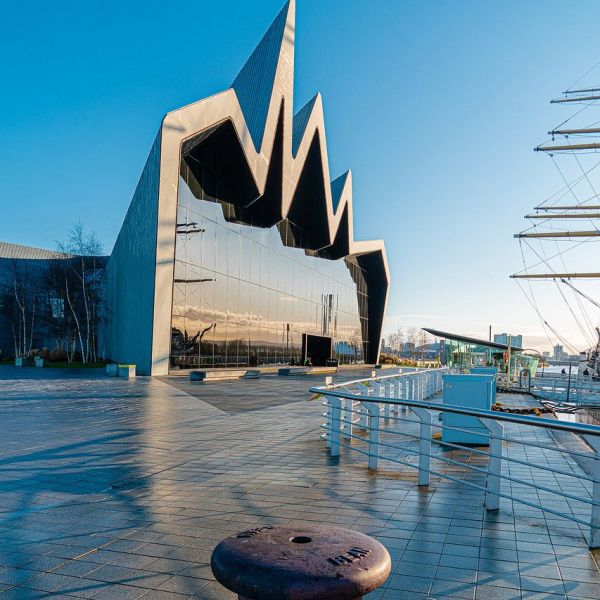 Riverside Museum
Inside this 18th-century palace, now converted into a museum, you can discover the history of Glaswegian life. It's filled with photographs, objects, paintings and a film about how people used to live in Glasgow. At the rear of the museum is a large, beautiful Victorian conservatory.
The palace is in Glasgow Green in the east of the city, Glasgow's oldest park, dating back to the 15th century. Here you can find monuments built from then up until the present. Access to both the park and the palace is free.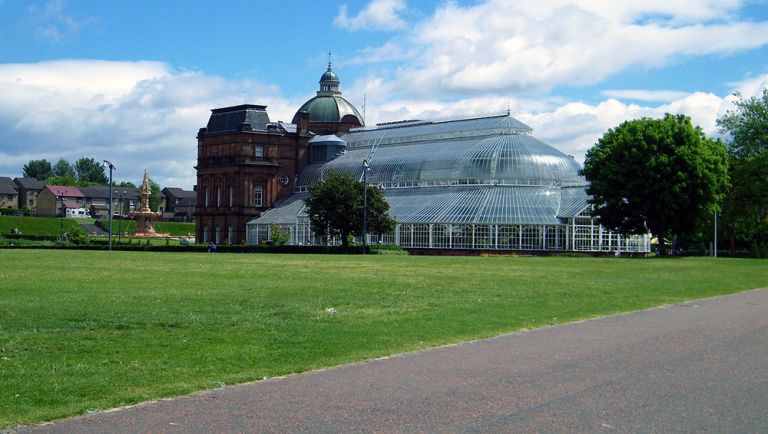 People's Palace
A little over 200 years old, taking a walk through this garden in spring or summer can be very pleasant while the flowers are in bloom. Although in autumn, with the leaves changing colour and falling, it can also be stunning. It has several greenhouses, but the main one is the 2,137 m² Kibble Glass palace, housing plants and trees from around the world.
Located in the heart of Glasgow, the museum opened in 1996, although the building dates from 1778 and is neoclassical in style. Before becoming a museum, it was the Bank of Scotland or Chamber of Commerce.
Among its exhibitions, you will find works by David Hockney, Andy Warhol, John Bellany, Ken Currie and Sebastião Salgado.
In front of the museum, you can see a statue of the Duke of Wellington and, most likely, he will have a construction cone on his head. This is no accident, as he's been wearing it for about 30 years, and it has become a local tradition. The cone is perennial, as no one ever removes it. Sometimes he even has several cones, one inside the other! There is no clear theory about the reason for this particular tradition, but it has spread throughout Scotland, and it's no longer just Wellington crowned with a cone. You may also find statues wearing cones in Edinburgh; luckily, they are usually removed quickly there! My theory is that this is a national sport for drunks because they usually always appear on the weekends; what a coincidence!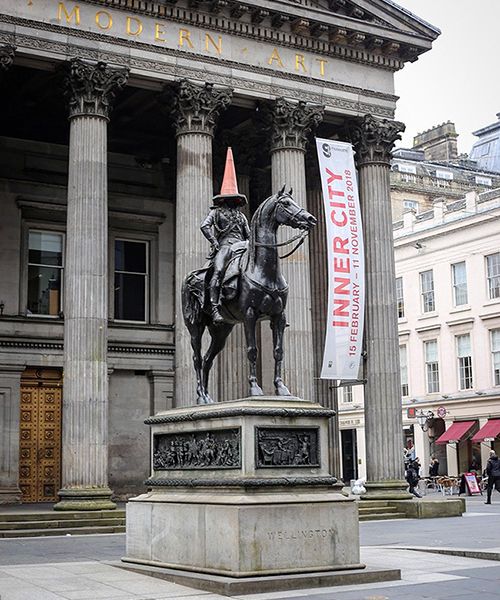 If you spend more than one day in Glasgow and it happens to be a weekend, I recommend visiting this peculiar place. It's a Glaswegian favourite, a time-honoured flea market, here since the 1920s and located in Glasgow's East End. You can find all sorts of second-hand items here: antiques, handicrafts, vinyl and much more!
11. George Square
The main square of Glasgow is very close to Queen Street train station and Buchanan Street. It was built in the 18th century as part of the city's grid layout, with the roads forming right-angled blocks, typical of the Scottish Enlightenment. In the square, you will find the town hall, a beautiful Victorian-style building, where they offer guided tours from Monday to Friday at 10:30 am and 2:30 pm.
You will also find a magnificent selection of statues of the Scots who helped improve humanity during the Scottish Enlightenment in the square.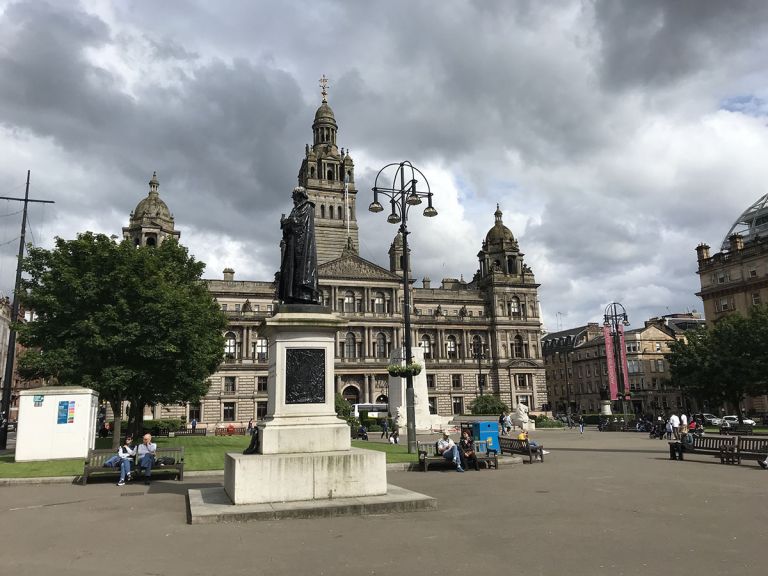 George Square
12. Buchanan Street
If you like going shopping while you are on holiday, this is considered one of the best shopping streets in the country!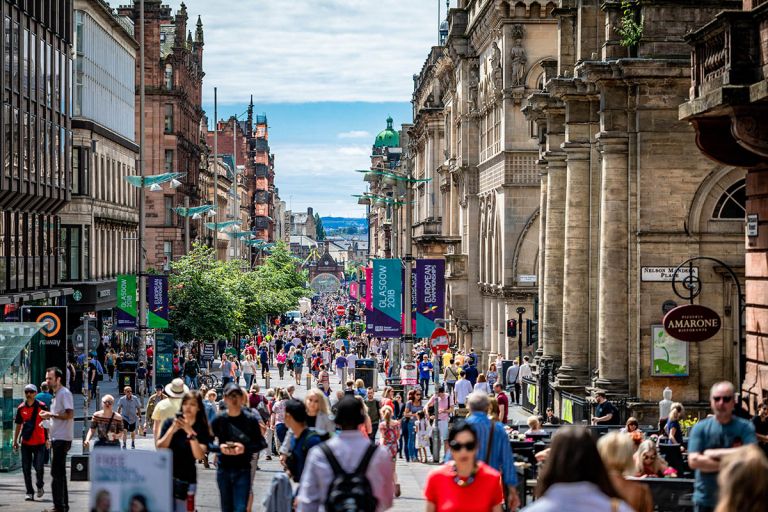 After an exhausting day of sightseeing and shopping, there's nothing better than having afternoon tea in this famous tea room. The decor is spectacular, designed by Mackintosh, and all the teas, sweets and sandwiches are delicious.
14. Ashton Lane
This cobbled street, located in the heart of the West End, is one of Glasgow's jewels of entertainment. Since it's not in the city centre, it's not overcrowded with tourists. The area is full of life, with restaurants, bars and the occasional small shop. People have even compared it to the Temple Bar area of ​​Dublin, the Irish capital.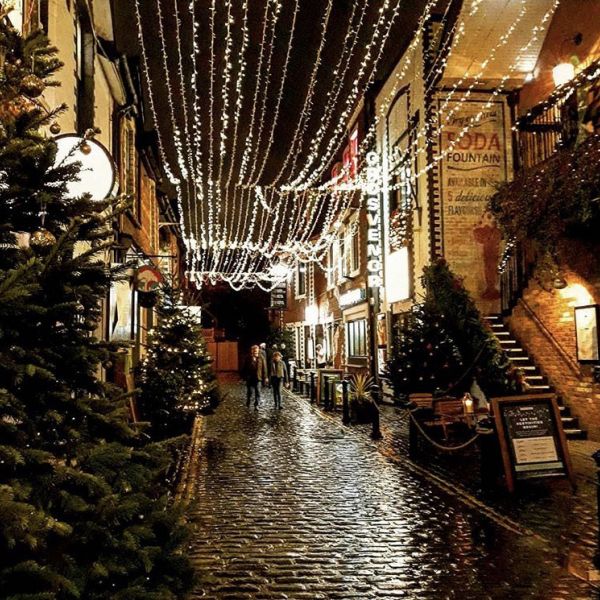 Ashton Lane. Picture "Scotland in My Pocket"
(insert website)
Glasgow's murals or graffiti are world-famous and result from a 2008 project created to rejuvenate streets and revitalise empty buildings and sites. They enrich the city and give it a more modern look. Currently, there are 30 murals scattered around the city, each one beautiful. Although it is somewhat difficult to see all of them, I recommend that you visit at least some of the ones in the city centre.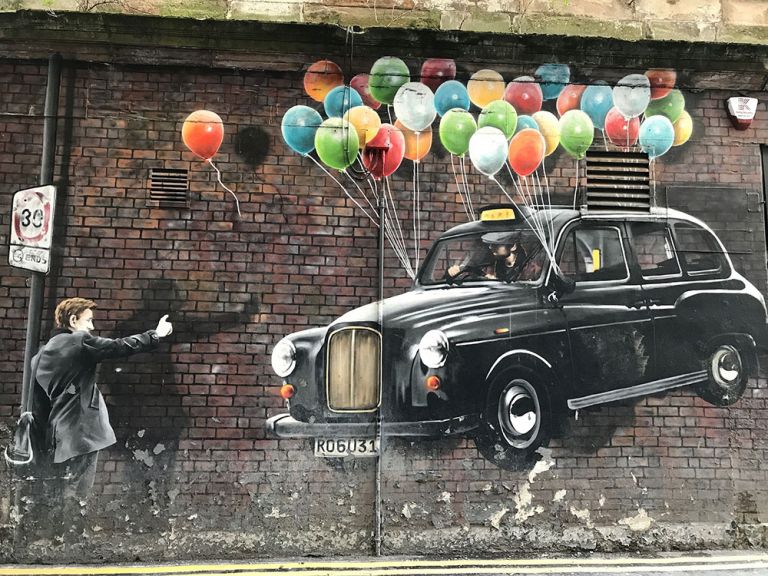 Glasgow is a beautiful city, although it may not seem so at first glance. It has a vibrant atmosphere and hundreds of things to do, including nightlife like few other cities in the United Kingdom. This is a place to spend at least two days since most people probably don't know much about it!
Another good option to explore the city is to take the tourist bus that leaves from George Square.
I hope this article gives you some ideas for how to spend your time in Glasgow, and please leave your comments or questions below!