Wild Haggis
The haggis is an animal native to the Scottish Highlands that lives on the slopes of the mountains. It is relatively small, with four legs, rough skin and quite a lot of hair. But having to live in such mountainous areas means that this animal has had to adapt to the very steep terrain. So, it has evolved to have two legs on one side longer than the other. This means there are two species: those that travel clockwise because their right legs are shorter than their left; and those whose right legs are longer and travel anticlockwise. Both species coexist peacefully and can climb the steep mountains without difficulty.
Hunting them is relatively simple since a wild haggis is a timid creature, so you just have to scare it, and it will run away. Since it only runs in one direction, you can wait for it to go around the mountain and catch it easily - but be careful, they bite!
To cook your haggis, put it in brine for a couple of days to make it tender. According to several records, people on the Isle of Lewis and Harris once used the skin to craft their sporran (the bag worn as part of the traditional Scottish dress). Today, the skin is simply discarded.
Did you believe the story? A third of Americans visiting Scotland believe that the wild haggis exists!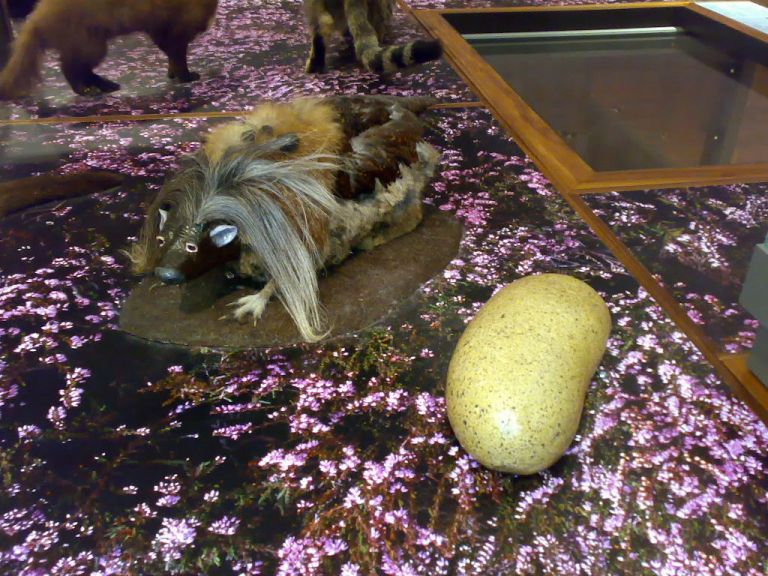 Wild haggis, Kelvingrove museum Glasgow
History of Haggis
Haggis, the national dish of Scotland, is a somewhat complex recipe made from sheep entrails: the heart, liver and lungs are usually part of the standard dish, mixed with oatmeal, onions and other spices. Everything is chopped into pieces and cooked inside the sheep's stomach. Finally, it is served with mashed potatoes, mashed turnip and whisky sauce.
Scotland is a country with grand romanticism: so much so that this delicious dish even has a romantic poem dedicated to it, written in the 18th century by the famous Scottish poet Robert Burns.
However, in reality, the origins of haggis point in many directions - even to England! Catherine Brown, a Scottish food historian, believes that haggis was invented in England, having found a cookbook from 1615 with a recipe for a pudding called "haggas" that is very similar to haggis. But did Shakespeare write a poem to haggis?
Other sources suggest that it was brought to Britain by the Romans in the 1st century AD, although there is little evidence to confirm this theory.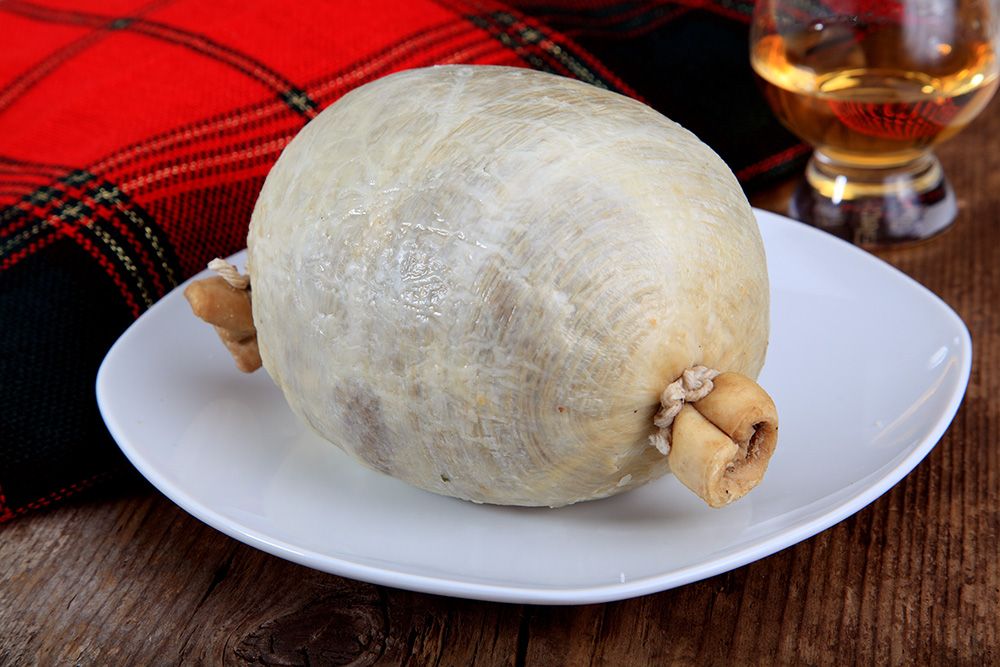 haggis
It has also been associated with Scandinavia, specifically the Vikings, who settled in Scotland between the 8th and 13th centuries. The etymologist Walter William Steak said that the word "haggis" derives from the Old Norse word "haggw", meaning to cut into pieces or chunks. Haggis has even been attributed to France due to their old alliance with Scotland, and they may have introduced in the late 13th century. However, the earliest written reference to a haggis-like sausage comes from the Greek playwright Aristophanes, who mentioned it in 423 BC.
How did haggis become Scotland's national dish?
Curiously, the first mention of haggis comes from the English.
At the end of the 17th century, the English diet changed due to the Agricultural Revolution. There was a wider variety of better quality foods, so people no longer needed to eat these less appealing sheep parts. Dishes like haggis went out of style in England and were only associated with the poorest working classes. Yet the opposite happened in Scotland! A severe economic recession in the 17th century led to 7 years of extreme famine, which made dishes like haggis more popular.
The English began to mock the poverty of Scottish food, attempting to humiliate them. The famous English writer Samuel Johnson said, "a grain, which in England is normally fed to horses, in Scotland feeds its people".
So while England rejected haggis as a food, the Scots, with their wounded pride and constant struggle to differentiate themselves from the English, claimed haggis as their own.
However, the love story between Scotland and haggis didn't begin until 1786, when Robert Burns wrote his famous "Address to the Haggis". Although, the association was not consolidated until the 19th century.
King George IV's visit to Scotland in 1822 served to close the ancient wounds between the two nations. Sir Walter Scott hosted the event, presenting the monarch with a romantic image of Scotland. Scott asked everyone to dress in tartan for the royal banquet and selected dishes that reflected Scottish identity, haggis being his main course. As you can imagine, he created a new tradition in the process! Haggis became more fashionable than ever, Scotland was a romanticised notion, and the William Wallace Monument was erected. And Scottish patriotism was reborn.
Although haggis is traditionally made with meat, a vegetarian version was invented in 1984, and you can also find everything haggis-flavoured, from crisps to ice cream!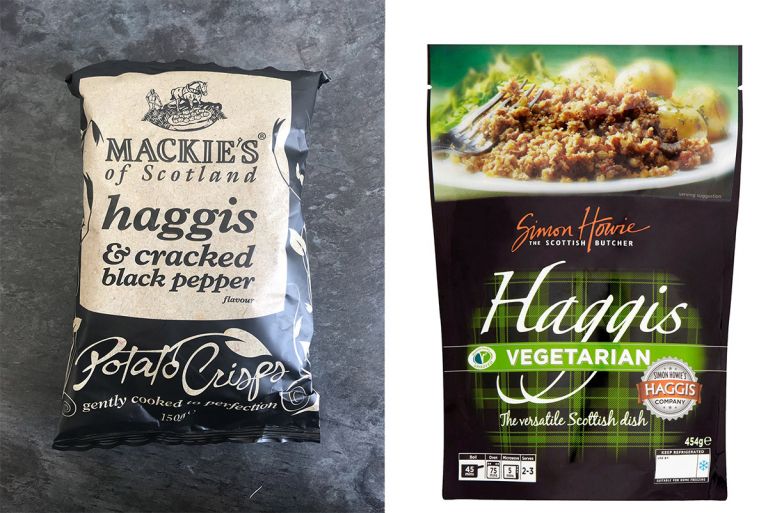 Scotland is a country of traditions and customs, so the haggis tradition survives, now deeply rooted in its culture, alongside bagpipes and tartan. Every year on the 25th of January, Burns Night is celebrated on the poet's birthday. Friends and family gather around their tables to enjoy the most Scottish night of the year, paying homage to Robert Burns, whisky and, of course, haggis!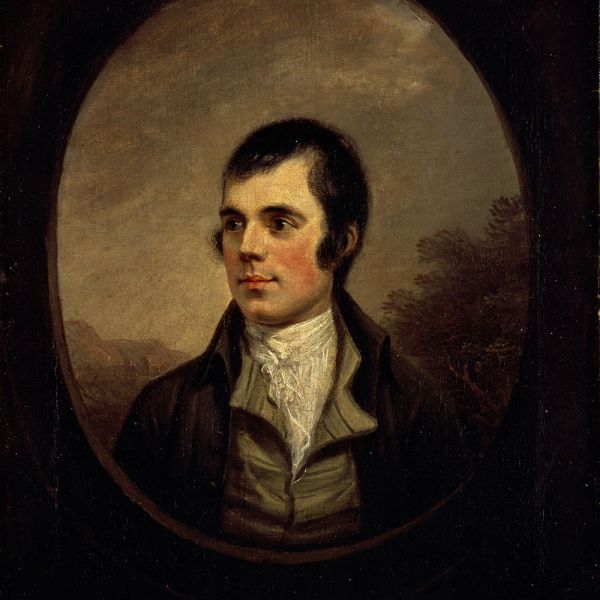 Robert Burns Portrait
Address to the Haggis
Fair fa' your honest, sonsie face,
Great Chieftain o' the Puddin-race!
Aboon them a' ye tak your place,
Painch, tripe, or thairm:
Weel are ye wordy of a grace
As lang 's my arm.
-
The groaning trencher there ye fill,
Your hurdies like a distant hill,
Your pin wad help to mend a mill
In time o' need,
While thro' your pores the dews distil
Like amber bead.
-
His knife see Rustic-labour dight,
An' cut ye up wi' ready slight,
Trenching your gushing entrails bright,
Like onie ditch;
And then, O what a glorious sight,
Warm-reekin, rich!
-
Then, horn for horn, they stretch an' strive:
Deil tak the hindmost, on they drive,
Till a' their weel-swall'd kytes belyve
Are bent like drums;
Then auld Guidman, maist like to rive,
Bethankit hums.
-
Is there that owre his French ragout,
Or olio that wad staw a sow,
Or fricassee wad mak her spew
Wi' perfect sconner,
Looks down wi' sneering, scornfu' view
On sic a dinner?
-
Poor devil! see him owre his trash,
As feckless as a wither'd rash,
His spindle shank a guid whip-lash,
His nieve a nit;
Thro' bluidy flood or field to dash,
O how unfit!
-
But mark the Rustic, haggis-fed,
The trembling earth resounds his tread,
Clap in his walie nieve a blade,
He'll make it whissle;
An' legs, an' arms, an' heads will sned,
Like taps o' thrissle.
-
Ye Pow'rs wha mak mankind your care,
And dish them out their bill o' fare,
Auld Scotland wants nae skinking ware
That jaups in luggies;
But, if ye wish her gratefu' prayer,
Gie her a Haggis!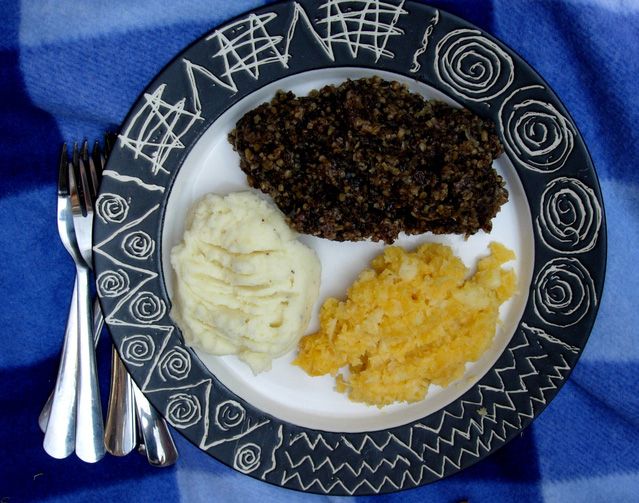 Haggis, neeps & tatties
So whether it was English, French, Roman, Viking or ancient Greek, who cares who created the original recipe? In the end, it was the Scots who dedicated a poem to the haggis and welcomed it as their national dish.