Another thing that is often difficult is choosing what to buy: what is the most typical souvenir from Scotland? If you asked me, I would say whisky, of course, but there are many other options, such as:
A postcard, keychain or figurine of the famous little dog, Bobby.
The classic butter cookies, which are called shortbread (I recommend you buy these at any supermarket; they will be much cheaper and are exactly the same).
A bottle of whisky … or two.
A plaid scarf, known here as tartan.
A soft toy of Nessie or a fluffy Highland cow.
A kilt (the traditional dress of Scotland).
A patch featuring the flag of Scotland.
A keychain, a magnet, a postcard or a bookmark.
The most iconic food, haggis, which you can also find in the supermarket and comes in airtight packages or even cans that you can take on the plane.
A woollen hat that says Scotland or a cap or bonnet, which are popular here.
Anything related to Harry Potter.
So, I hope this list can help you choose a souvenir. There are few independent shops left with 100% Scottish-made products, but I have tried to collect a few of them on this list so you can buy guaranteed local products:
In Edinburgh, Christmas lasts the whole year! The reason being that there are two shops dedicated exclusively to Christmas decorations: the one I mentioned in the title and Ye Olde Christmas Shoppe. Both stock a great mix of Christmas tree decorations and classic souvenirs, and are located on the Royal Mile, so you will surely pass by at some point. It's worth even just going in to take a look, as you will probably be surprised by what you find!
Adreess: High St, Edinburgh EH1 1TB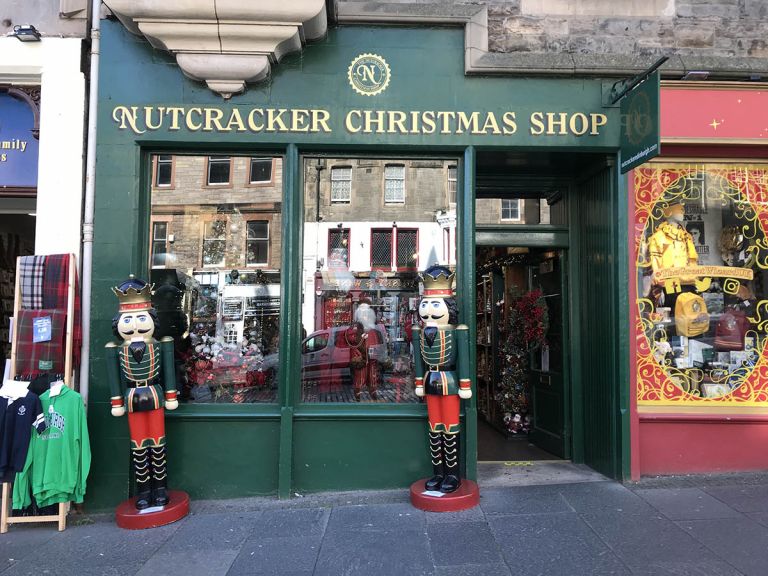 Edinburgh has several Harry Potter themed shops, but if there is just one that I would recommend, it is this one. It's a museum shop, where you will find everything you can imagine related to the saga of JK Rowling's novels. There are two stores, which are both in the centre of town.
Address: 40 Victoria St, Edinburgh EH1 2JW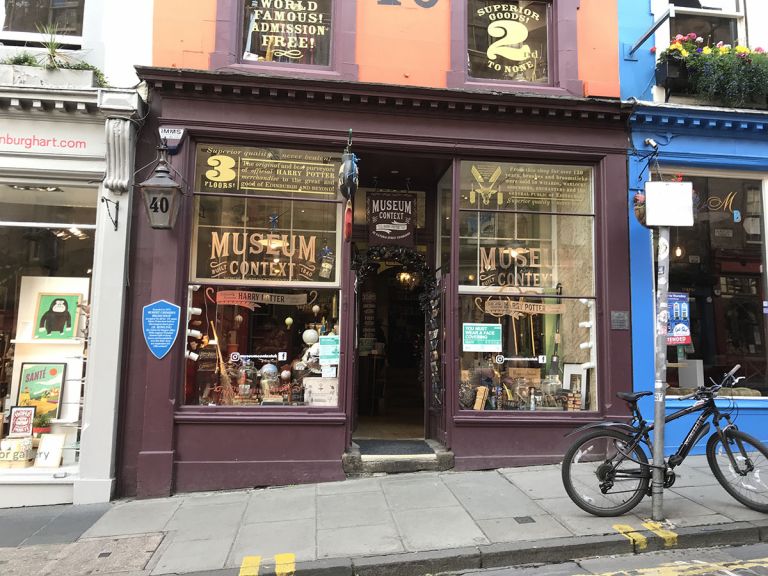 My favourite souvenir: whisky, the national drink of Scotland. This is one of the best whisky shops in the city, and you can find it on the Royal Mile in front of St. Giles Cathedral. It has an infinite number of varieties and types of whisky, from miniatures to bottles costing up to £15,000.
Address: 379 High St, Edinburgh EH1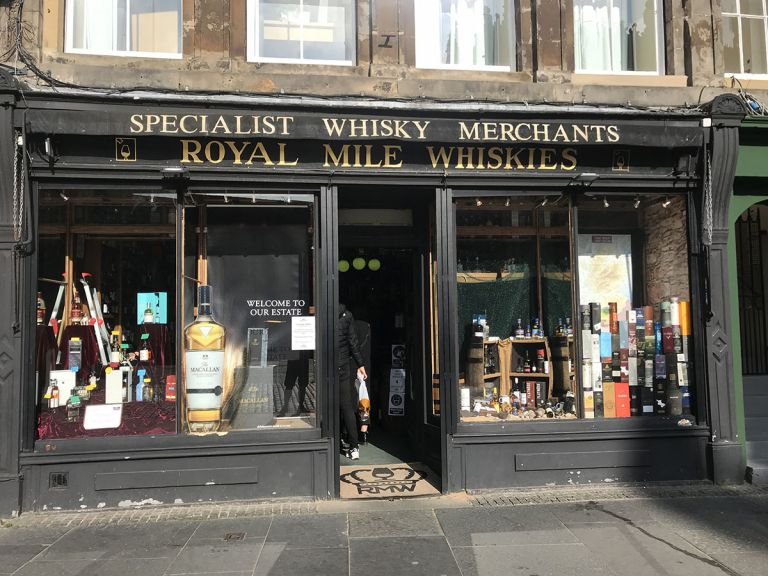 This is a typical souvenir shop where you will find everything: the cheapest fridge magnets, postcards, key rings, stuffed animals, scarves, hats, gloves, kilts and much more. The shop has four floors and is located at the top of the Royal Mile, just before you reach the Esplanade of Edinburgh Castle. However, they also have a bagpipe workshop and you can also see the tartan-making process on their looms. And don't miss the chance to take a fun photo wearing a traditional Scottish outfit!
Address: 555 Castlehill, Edinburgh EH1 2ND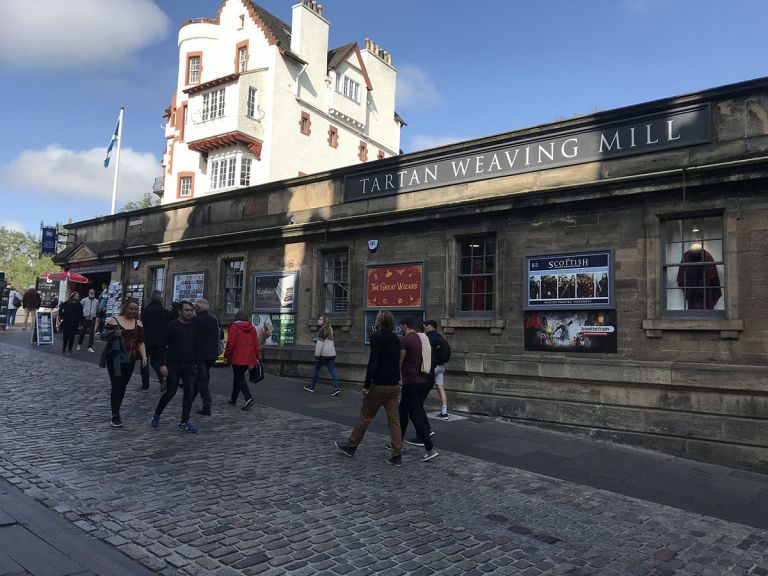 If you are someone who likes to take home an illustration of the city, postcards or a print, this is one of the best shops in Edinburgh to buy this sort of souvenir. It's attached to the Harry Potter shop on Victoria Street.
Address: 42 Victoria St, Edinburgh EH1 2JW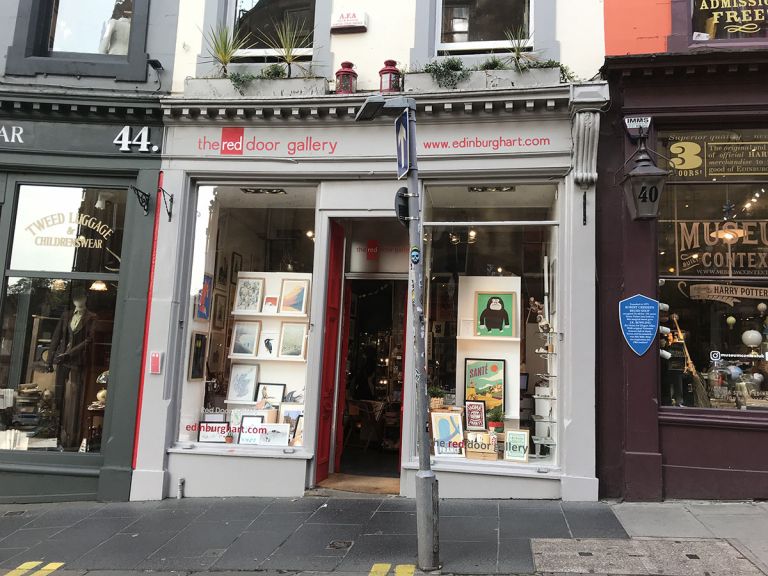 If, on the other hand, you don't want to purchase the usual fridge magnets, and instead are looking for something of a higher quality, such as cashmere or 100% sheep's wool garments, moreover ones made in Scotland, then I recommend this store. You'll find plenty of products from the famous Hebridean wool merchant, Harris and Tweed. The store is located next to The Red Door Gallery, on Victoria Street.
Address: 16-20 Victoria St, Edinburgh EH1 2HG
The Royal Mile is 1814 metres long and you will find another souvenir shop with every step you take, offering you cashmere scarves and other garments for an affordable price. However, take a good look at the label before buying, because most of these products are mass-produced elsewhere in the world and are made of synthetic materials, with a minimal cashmere percentage. Shop in small businesses and choose local produce from the Scottish Highlands; support the Scottish economy that is suffering in these capitalist times, so that it can continue to grow and give us the high quality products offered by these shops in Edinburgh. And with that, I'll sign off from this post. I hope you enjoy your visit to the Scottish capital, which enchants, captivates, and makes you fall in love. If you have any questions, leave me a comment below and I will answer as quickly as possible!