Here in Edinburgh, there are many paid attractions, such as the Castle or Holyrood Palace, and there are also plenty of free ones, such as the National Museum of Scotland or the various art galleries, but to visit any of them now, you have to book your ticket in advance. Unfortunately, it is no longer possible to just show up and buy your ticket at the door!
But don't worry, there are always alternative things to do if you haven't been able to get your ticket to visit any of Edinburgh's most famous tourist attractions. Plus, even if that is the case, now you have the perfect excuse to revisit Scotland's capital!
Here I have 10 alternative places for you to visit in Edinburgh. All of these activities are outdoors, so I recommend that you come prepared with good walking shoes and rain gear.
1. Arthur's Seat
This is an extinct volcano that rises up to 251 metres, right next to Holyrood Palace and the views of the city from above are amazing. To climb to the top, you will see a lot of paths when you reach the foot of the hill; take the one you like the look of the most, or that looks the least difficult. It takes between 30 and 45 minutes approximately to reach the peak, depending on how fit you are, and don't forget to bring water and be prepared for the wind, which usually blows hard up there.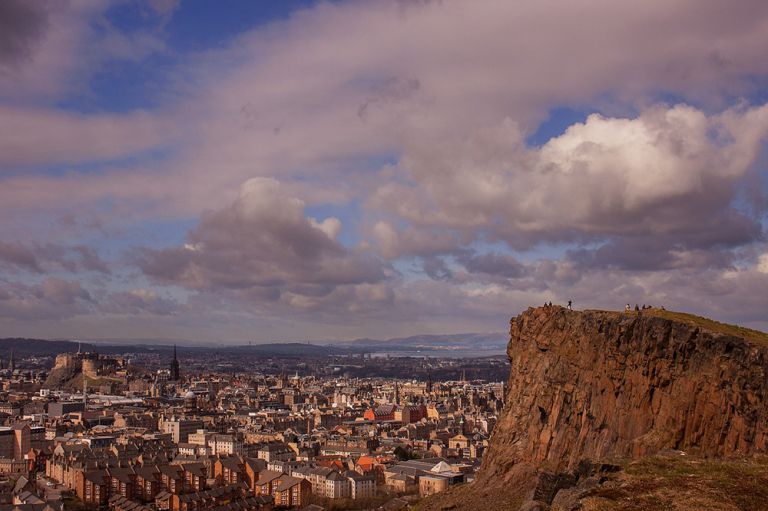 2. Calton Hill
This is another hill in the centre of the city, but I can assure you this climb is much more relaxed! It takes about 5-10 minutes and you will find stairs to go up from Waterloo Place. The hill has some nice views of the city, and I recommend it for watching the sunset.
At the highest point you will find 3 buildings: the half-built Parthenon called the National Monument; Nelson's Tower; and the City Observatory.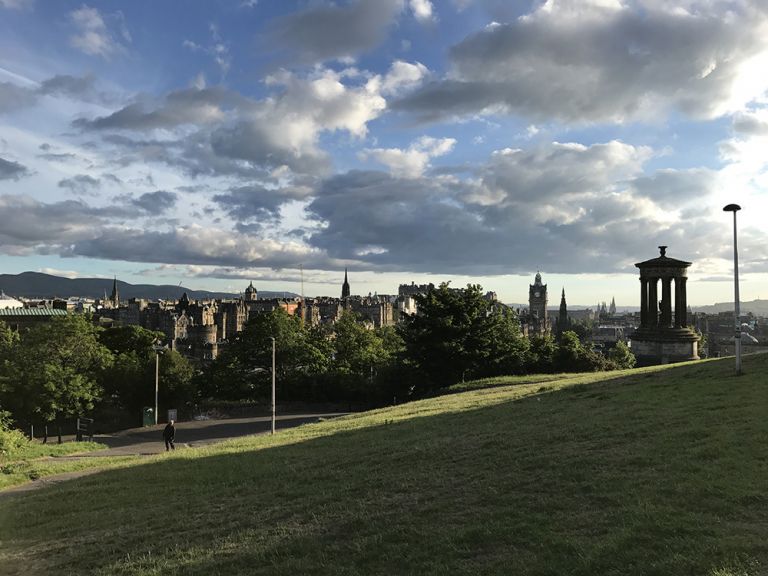 3. Cramond Island
This island is in the Firth of Forth, opposite Cramond Beach, and is accessible on foot via a causeway, which only appears during low tide.
The island is just under 8 hectares in size and is currently uninhabited. In the past, it was used for grazing sheep, and during the First and Second World Wars, it was a strategic point for protecting the estuary, so you will find small defensive forts.
To get there by public transport, take the 41 bus from Princes Street and get off at the Peggy's Mill Road stop (there are 30 stops to reach your destination, which takes about 30 minutes).
Cramond Island is fascinating and quite popular, but remember to check the tides before you go, so you won't get stuck on the island and spend the night! Though if you do, you wouldn't be the first, nor the last!
4. Portobello Beach
Almost 6 kilometres from the centre of Edinburgh you will find Portobello Beach, because yes friends, even in Edinburgh, although it is not the Brits' favourite place to spend the summer, there is a BEACH (though it is entirely another thing to be able to swim in the cold water of the North Sea).
There are just over 3 km of beach, with a beautiful promenade, restaurants and pubs to enjoy beautiful views of the Forth estuary; don't forget your bucket, spade and swimsuit!
To get there by public transport, take the 26 bus from South St. David Street and get off at the Bellfield Line stop (there are 22 stops to reach your destination, which takes about 30 minutes).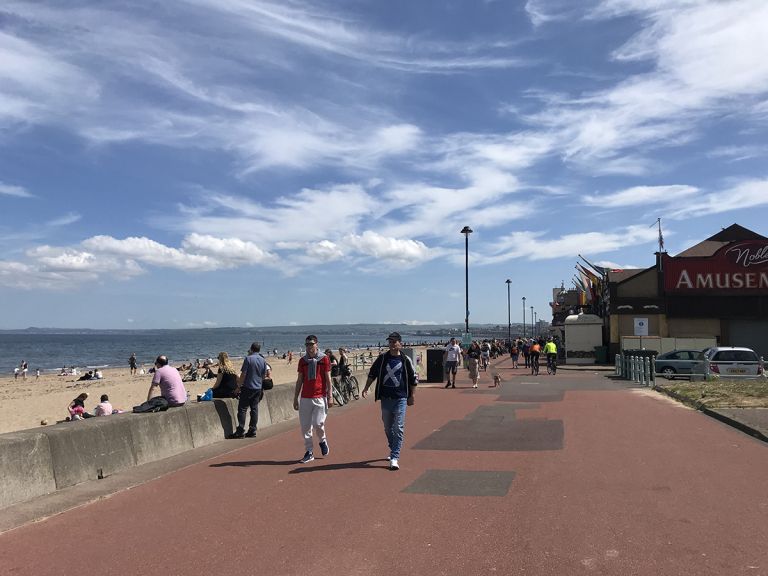 5. Duddingston
This is an old, picturesque village to the east of Arthur's Seat, but nowadays is part of Edinburgh. To get to Duddingston, I recommend you go on foot, which takes around 45-50 minutes from the centre of Edinburgh.
The most important things to see in this small village are the 12th century cemetery and the secret garden (open Tuesday, Thursday and Friday from 10:00 to 14:00 and Sunday from 12:00 to 16:00). If after this wonderful visit you want some delicious food, accompanied by a good pint, I recommend The Sheep Heid Inn, which is the oldest pub in Scotland.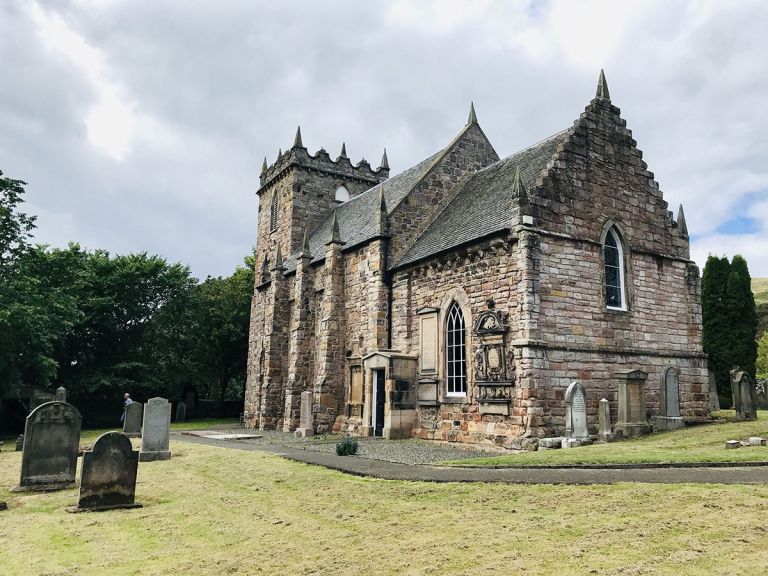 6. Dean Village
A 10-minute walk from Princes Street is this quaint Victorian neighbourhood, which was built in the 1880s. It began as a working-class village built on the banks of the Water of Leith, a magnificent walk through nature in the very city of Edinburgh, and today is an oasis of peace. Definitely a must see!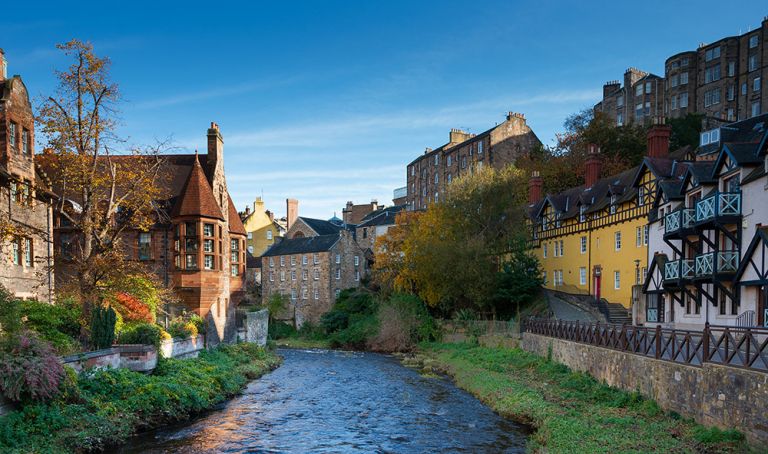 7. Colinton Tunnel
This is an old Victorian railway tunnel located in ​​the Edinburgh suburb of Colinton, which was abandoned, and became dirty and full of graffiti. The community wanted to give it more colour and life, so several artists, school workshops, and various other people all did their bit to make what is now the most beautiful tunnel in Scotland into a reality.
It has been thanks to donations that it has been possible to pay for all the materials and artists that have transformed this cold tunnel into a top tourist attraction of the city. The total cost of the project is £97,800, and that figure has not yet been raised; here is the link in case you want to make a donation (I already made mine!).
To get there by public transport take the 10, 16 or 44 bus from Princes Street (it takes 35 to 45 minutes, depending on which bus you take).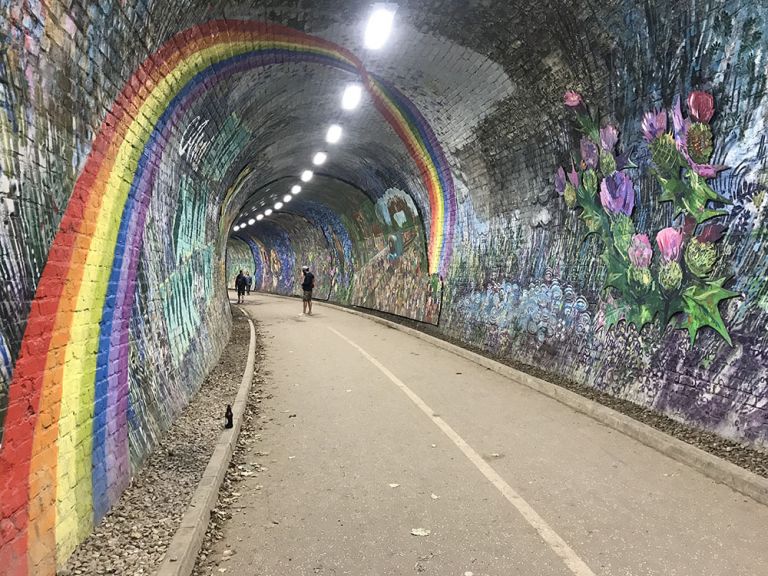 8. Pentland Hills
This is a regional park just outside Edinburgh; the journey here will make you feel like you're in the Scottish Highlands. Here are some photos so you can get an idea of ​​what I'm talking about!
The route that I walked, and that I recommend, takes about 4 hours and is incredible; you will see lakes, small waterfalls, wildlife and the occasional sheep. The day I went, we were lucky that the weather was very good so we could really enjoy it. I recommend spending the whole day here. The route is marked in green on the map below.
At the end of the walk there is a pub, The Flotterstone Inn, where they serve traditional Scottish food and you will eat very well! To get there by public transport, take the 44 bus from Princes Street and get off at the last stop, at Cockburn Crescent (the journey is approximately 36 minutes, with 49 stops). And from there you have to walk about 30 minutes to reach the visitor centre, which is where the trails begin.
To return to Edinburgh after the long walk, take bus 101 or 102 (Stagecoach Buses) from Flotterstone, as indicated on the map.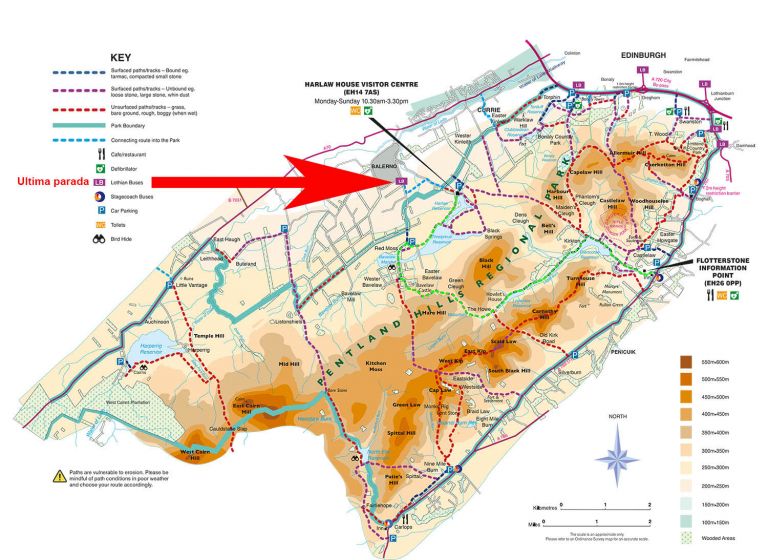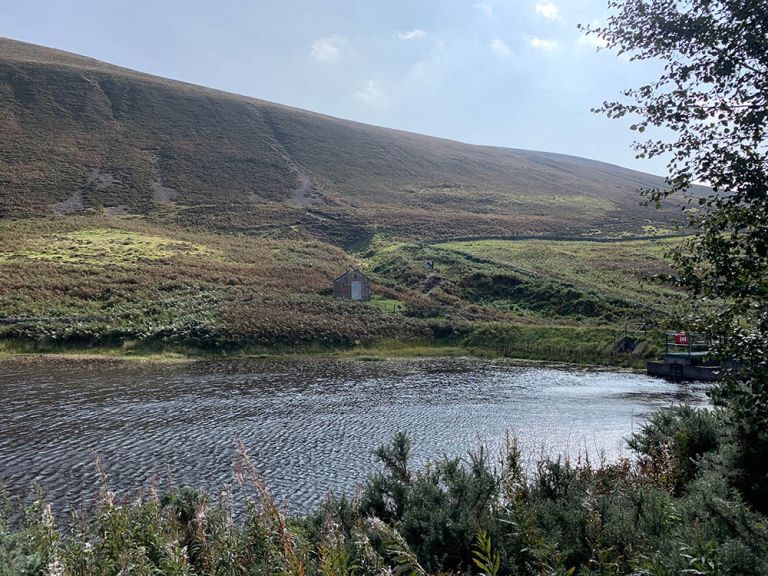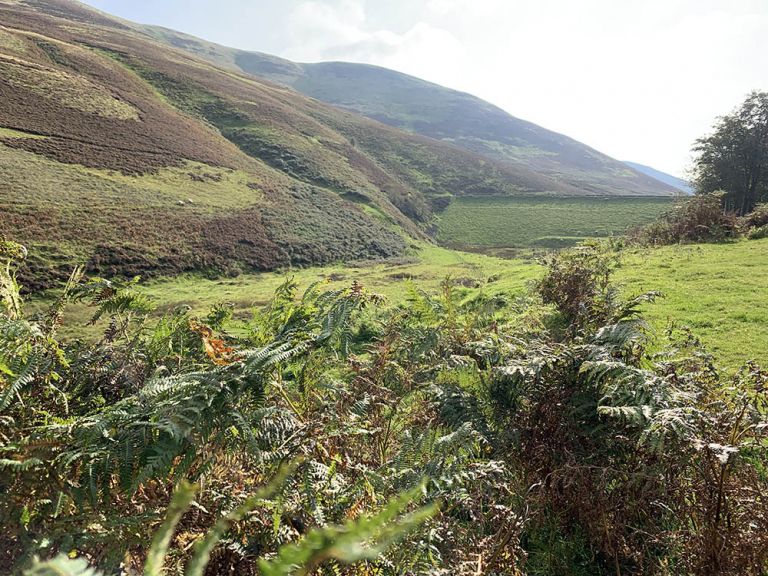 9. South Queensferry
This small town is located about 16 kilometres from the centre of Edinburgh, and from here you can see the bridges that cross the estuary. High Street is the main street, where you can see buildings from the 17th century onwards.
The Forth Bridge is one of three bridges built to cross the estuary, and only trains can pass over it. It was completed in 1890 and was a feat of engineering at the time, for which it earned UNESCO World Heritage status in 2015, appearing on the £20 notes issued by the Bank of Scotland.
The other two bridges are for cars and buses: the Forth Road Bridge, which was completed in 1964, and the more modern Queensferry Crossing, opened in 2017. And both were opened by Queen Elizabeth II!
There is a small cruise that takes you through the estuary, during which they tell you about its history and that of the bridges, operated by Forth Boat Tours.
To eat there, I recommend looking for Graziano's Takeaway fish and chips, which is on the main street. It was quite the discovery the last time I was there!
To get there by public transport, take the 43 bus from Princes Street and get off at The Loan stop (there are 37 stops, which takes about 40 minutes).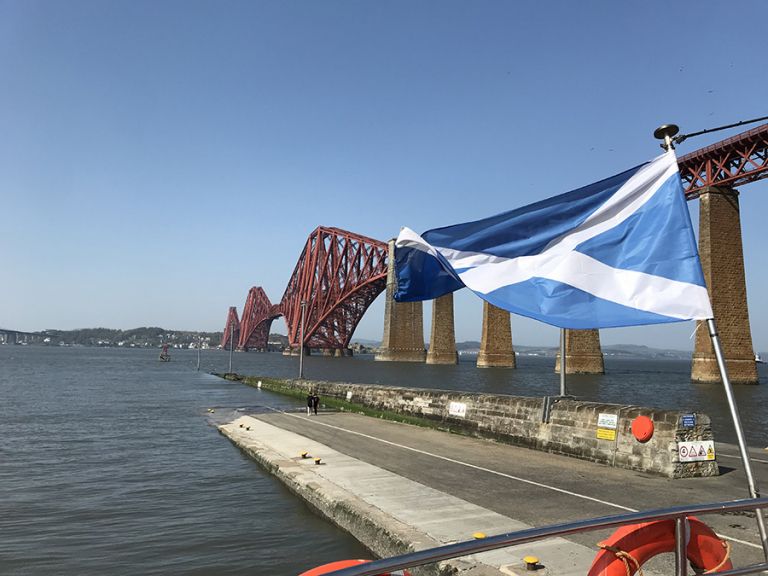 10. North Berwick
This coastal town is about 32 kilometres from Edinburgh, and from here you have amazing views of the Forth Estuary and a small island called Bass Rock, where the largest colony of gannets in the world can be found, numbering around 150,000. There is also a bird conservation and education centre, and a small cruise that takes you to see the gannets.
Off the coast of North Berwick is also Frida's Island, which is said to have inspired Robert Louis Stevenson when writing the novels Treasure Island and Catriona, as he spent several holidays in this town as a young man.
Not far from the town, 4 kilometres away, is Tantallon Castle, which is built on the side of a cliff. The castle is in ruins, but it is worth the visit. From Melbourne Road (promenade) you can catch the 120 bus, and it takes about 15 minutes to get there.
Finally, like any good coastal town, it has several quality fish and chip shops!
The best way to get there is by train, from Edinburgh Central Station, Waverley Station, which takes around 30 minutes, getting off at the North Berwick stop.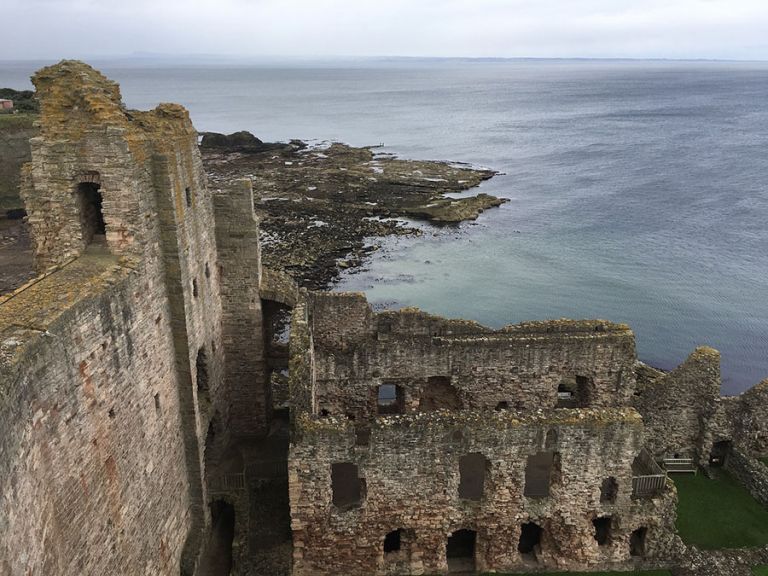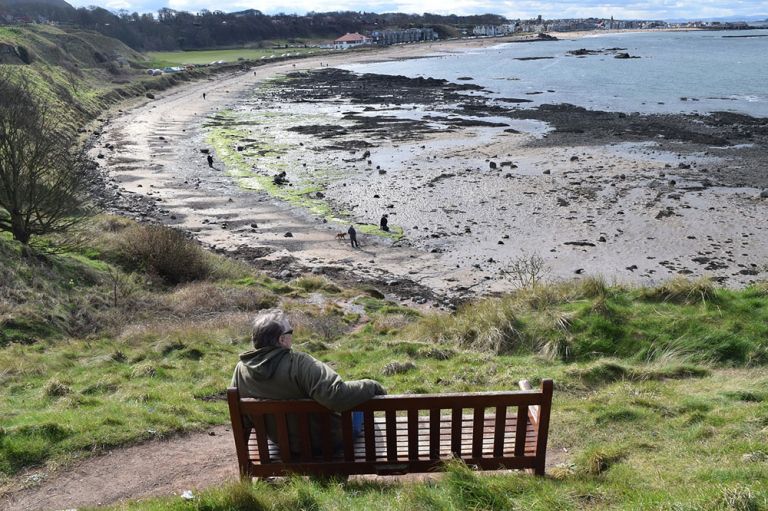 The public transport (bus) fares cost around £1.80 each way (around €2), and in almost all of them you can pay by contactless card. If you want to pay in cash, I recommend that you bring coins, since they don't give you change.